Choose Chelmsford Age-Friendly Job Fair
Are you seeking full-time or part-time employment? Join us on August 18 to meet with age-friendly employers who value a multi-generational workforce.
For anyone 50+, you will have priority access from 10:00 a.m. to 11:00 a.m.
Opens to everyone from 11:00 a.m. to 1:00 p.m.
Thursday, August 18, 2022
10:00 a.m. to 1:00 p.m.
The Chelmsford Senior Center
75 Groton Road
Chelmsford, MA 01824
For more info, please contact Rena at 978-805-4702.
Please register below:
Raffle for those registering and attending the job fair:
$50 gift card to Market Basket – Sponsored by Incompass Human Services of Chelmsford
$50 gift card to Dunkin Donuts – Sponsored by the Greater Lowell Chamber of Commerce
$45 gift kit for take home craft projects – Sponsored by Tiny Tile Mosaics of Chelmsford
Employers Attending
AgeSpan, Lawrence
Atrius Health, Chelmsford
Axis Communications, Chelmsford
Chelmsford Public School, Chelmsford
CVS (CAFE)
Express Employment, Chelmsford (CAFE)
Home Depot, Lowell (CAFE)
Home Instead Home Care, Chelmsford (CAFE)
Incompass Human Services, Chelmsford
Lowell General Hospital, Lowell
Supporting Strategies, Methuen (CAFE)
Veterans Administration
Zoll Medical, Chelmsford
* CAFE – Certified Age Friendly Employer
Volunteer Opportunities at:
AARP, Boston
Sr. Tax Worker Program,  Chelmsford
Operation Able, Chelmsford
Crushing Stereotypes: The Power of Mature Workers
Friday, August 12 at 10:00 a.m.
The webinar will discuss how to overcome common stereotypes that mature workers face during the job search. We will discuss how to best to position your experience to get the next job. Remember 50 is the new 30.
If you are a member of a career center in Massachusetts, please use your Job Seeker ID when registering.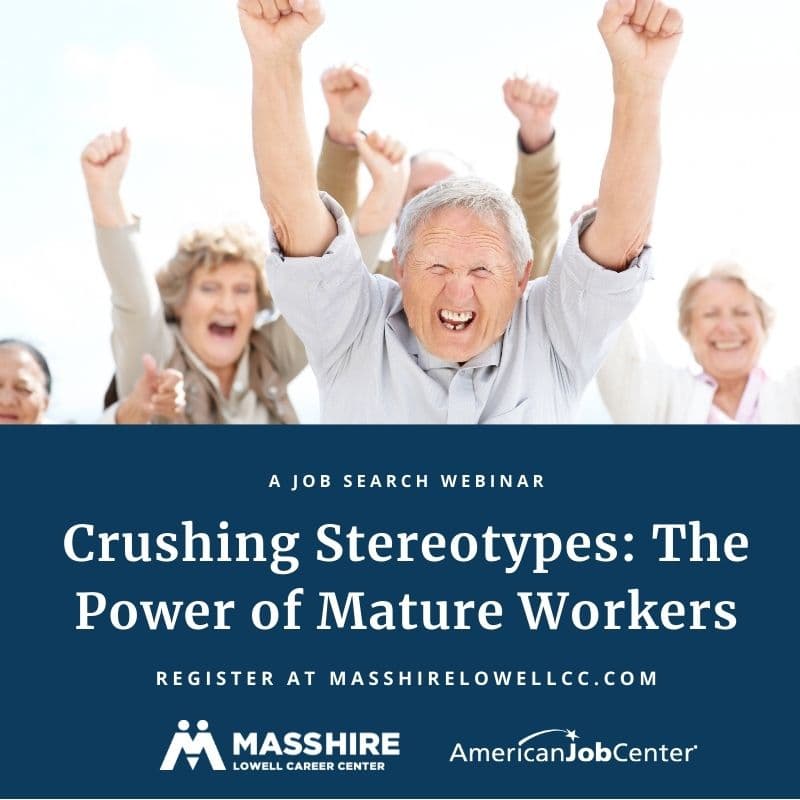 Going to the Job Fair
Monday, August 15 at 10:00 a.m.
To get prepared for a job fair, there are certain things that you should take into account whether it is in person or virtual. You will be given specific tips to use to make sure that your job fair experience goes as smoothly as possible.
We ask that all individuals who are a member of a MassHire Career Center, please enter your Job Seeker ID when registering.
Online Guest Speaker: How Job Searching Changes after 40
Tuesday, August 16 at 2:00 p.m.
The job search changes when you turn 40 years old. There's no denying this. So, what are you going to do if you're 40 and over? Lisa Rangel will talk about how to solve this conundrum. She'll talk about ageism, how to overcome it, and how your age can work to your benefit. (Personal note: I know Lisa, and she's a straight shooter.)
Lisa Rangel is the Founder/CEO of ChameleonResumes.com, the premier executive resume writing firm, and JobLandingAcademy.com, the do-it-yourself career portal. Lisa's mission in life is to continue to make the world a happier place with one fulfilling, well-paying job change at a time using her 4-Step M.E.T.A. Job Landing System. She has successful clients in 88+ countries and been featured / quoted in 200+ publications.
When registering, please be sure to use your Job Seeker (Mass JobQuest ID) number.
"Tell Me About Yourself"
Wednesday, August 17 at 10:00 a.m.
When you're given the directive, "Tell me about yourself" do you freeze, unable to tell the interviewer or networking group what you're passionate about and your most relevant accomplishments? This webinar will help you formulate your elevator pitch and address the following elements:
– Getting over the initial shock of being asked this directive
– Why employers ask you about yourself
– How to write your elevator pitch
– How to tell it
Your elevator pitch is a necessary tool to have in your job-search toolbox. Join this webinar to better prepare you for interviews and networking events.
If you are a member of a career center in Massachusetts, please enter your Job Seeker ID number when registering.