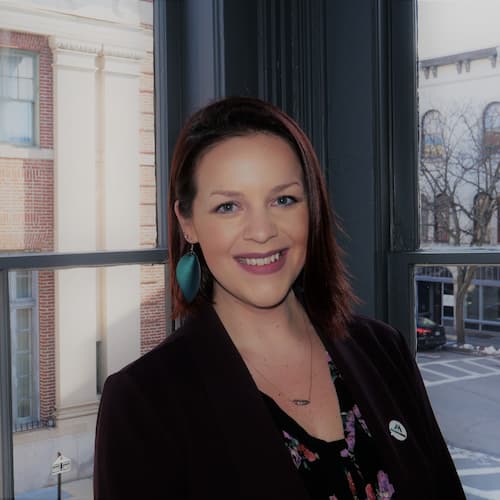 Heather
Heather, the Young Adult Career Center Manager, strongly believes that the young people of Greater Lowell are the future of the workforce. With that vision she leads the team at the center with a focus on youth-centered design, hands-on work training and soft skills work readiness. Heather was born and raised in Lowell, completing all her schooling including college at UMASS Lowell in the public school system. She sits on multiple committees within the city including the Lowell Youth Development Collaborative, Mill City Prevention Network, Greater Lowell Substance Use and Abuse Prevention Committee and the Greater Lowell Youth Council.
Heather was recently recognized as one of the 2020-2021 Distinguished Young Professionals and strives to bring that energy into her work every day. She uses personal barriers that she has overcome to connect to young people and show them that past tragedy does not dictate your future.
In her free time, Heather is an entrepreneur, going on year three of her own business. She also spends many long mornings inside of a hockey rink watching her son play junior-level hockey and many long afternoons on the soccer field cheering on her daughter.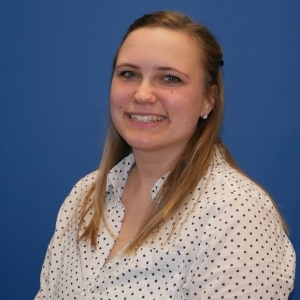 Victoria
Victoria, who has spent four summers at the Career Center -managing youth summer employment, recently graduated earning her Bachelor of Science (B.S) degree and is excited to join the MassHire family full-time.
In her Career Advisor role, she works closely with young adults who are striving to earn their High School equivalency certificate. Her main objective is to encourage them to reach their goal and provide support along the way. Victoria enjoys seeing these young adults prosper and grow. She strives to create a welcoming and supportive environment for all students.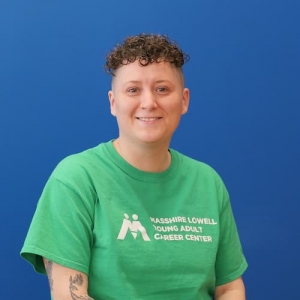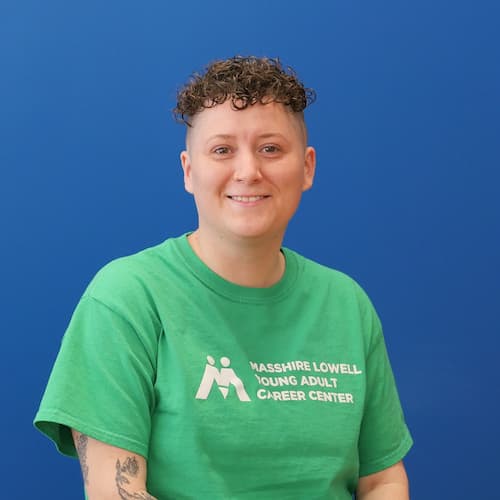 Cassidy
Cassidy started working at the Career Center as a summer counselor for the van crew in 2019 and made the move to year-round in 2021 as a young adult counselor. She provides young adults assistance on job searching and resume building, along with signal success workshops. During the summers she is still one of our summer counselors for our van crew, where she takes pride in teaching our young adults work ethics. The van crew goes around Lowell and cleans up parks and public areas, whether it be trash or light landscaping – with some amazing transformations. She really enjoys making a positive impact on the young adults lives that she works with.
Aside from the Career Center, Cassidy also works part time in the Lowell community at The MillYou – CTI Youth Services as a LAB Facilitator, working with at-risk and/or homeless youth. Giving back to the community is something she is very passionate about, especially the youth here in Lowell. She just recently graduated Middlesex Community College and will be transferring to UMass Lowell in the Fall of 22' for Criminal Justice. She hopes to continue to work with at-risk youth in the future and continue to make a difference in their lives.
Shannon
Shannon is a Career Advisor who organizes and facilitates workshops for the Young Adult Career Center. Her workshops provide services such as bringing in guest speakers who specialize in trades or job positions that could be of interest to many and the how-to essentials of building a resume, job searching, and preparing for an interview. She strives to make workshops that help inspire young adults and students while also helping them feel more confident in their career paths.
For Shannon, identity is a driving force for why she chooses to work with the given population and demographic in which her position brings in. She is a Filipino and Indigenous immigrant who first settled in Lowell, MA. While attending UMass Amherst, her undergraduate studies focused on the relation between language, race, and ethnicity. Alongside one of her Professors, she performed research using Critical Race Theory as their rhetoric. During her senior year of 2021, Shannon and two other students, started up the student board for the Asian and Asian-American Studies Certificate Program which marked the beginning of a legacy for many incoming Asian/Asian-American students.
Jay
Jay began as a Summer Counselor at the Career Center, helping run the Summer Work Experience for two summers. After graduating from UMass Amherst with a Bachelor's in Psychology and Communications, he joined as a Career Advisor, excited to begin a Career in Social Services.
As a Career Advisor, Jay now oversees the Year-Round Work Program at MassHire. He is driven to provide the young adults of Lowell with opportunities that will not only provide invaluable work experience, but also create stronger connections with the city of Lowell. He enjoys learning about the interests and aspirations of everyone he works with and is eager to see every program participant learn, succeed and thrive. Jay feels very blessed and excited to be able to facilitate the first steps in many professional success stories to come.
Monica
Monica joined MassHire's team in the summer of 2020 during COVID times as a summer counselor and now she has transitioned to a part-time Career Advisor. Mostly, she works with young people who are interested in part-time jobs and does a big part in being involved with the Work Experience Program. She is the helping hand and go-to person in the office.
Monica is a First-Generation, low-income student who graduated from Lowell High School in 2016. She then earned her Bachelor of Arts in Psychology at the University of Massachusetts Lowell in 2020. Currently, she is earning her Master's in Education in School Counseling at Salem State University to further gain knowledge and experience in supporting young people in many different aspects. Her goal is to guide young people with barriers to become bigger and better. She loves to see young people become successful and be our future leaders.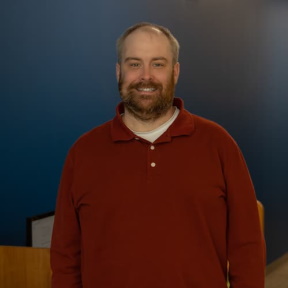 Brandon
Brandon joined the Young Adult Career Center team in February 2023 as the Supervisor/Senior Advisor. After 9 years with the Department of Public Works and graduating with a bachelor's degree in interdisciplinary communications from Fitchburg State University he saw an opportunity to join a team making a real difference in the lives of inner-city youth. Brandon was born and raised in Lowell, MA where he still resides. He strongly believes in helping others build and write their own success stories, as he is doing now. Helping others in the community, especially the young adults coming into careers, is something he takes great pride in.
Outside of MassHire, Brandon has a full house which includes his wife and 3 children, a son and two daughters. Avid animal lovers, the family also has two dogs, two cats plus a number of wild yard dwellers.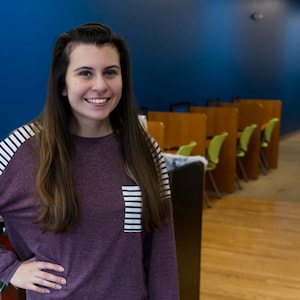 Ashley
Ashley joined the MassHire Lowell Young Adult Career Center in November of 2022. Her current role at the center is as a Young Adult Career Advisor who helps young adults find jobs, work on their resumes, enroll in subsidized work programs and assist them in finding overall success. Ashley graduated in 2021 with her bachelor's in Criminal Justice at Salem State University with a minor in psychology. She always had a passion for helping people and going above and beyond to make sure young people have a path and can see how to reach their goals.
Ashley works closely with at risk young adults that want to get started in the workforce. Ashley strives to make sure young people visiting the career center are happy, and that they feel like they are in a supportive and safe environment. It is truly a rewarding experience to watch young adults succeed because she makes an impact on them every day.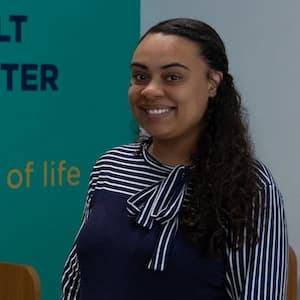 Janessa
Janessa joined the Young Adult Career Center in June 2023 as the Administrative Assistant. Janessa has spent most of her life dedicated to supporting at-risk youth in positions with the YWCA of Lowell as well as the Boys and Girls club of Greater Lowell and Lowell Public Schools. Janessa has also spent time supporting adults with substance use or co-occurring disorders within the Lowell community. After 2 years of employment with Lowell Public Schools as the infamous Ms. B, Janessa saw the opportunity to join a team where she could bring to the table her experience and ability to connect with young adults, in a setting where she is exposed to youth through all walks of life. As a young adult, Janessa adopted the idea that every child needs at least one person to show genuine belief in them in order to spark belief in themselves in a time in their lives where society tries to dictate who they are or who they can be. Janessa wants to be a positive role model in the lives of our youth because she was privileged enough to have a positive mentor in her life as she was growing up.
On a personal level, Janessa spends most of her time being a mother to her two amazingly energized twins, a son and daughter. She is also a very active member of her church community where she inspires others through liturgical dance. When she's not at church or watching her kids follow their dreams, you can find her trying to be a powerlifter, doing karaoke, dancing in the rain, or working on her side Makeup Business! A quote Janessa lives by daily from one of her favorite childhood movies, A Cinderella Story, is "Don't let the fear of striking out keep you from playing the game."